Jemima Kiss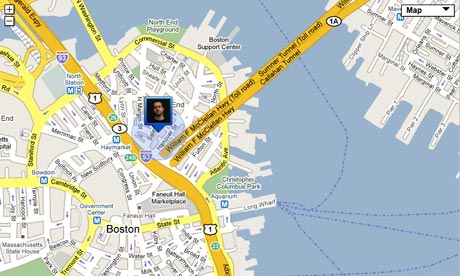 Not yet – but with a bit of inspired app design, it could help.
We all know how annoying it is to lose your mobile phone, especially if you never did get round to backing up those valuable contacts. But with location-based services becoming ubiquitous, isn't there a way to track down your lost or stolen handset?
That was exactly what San Francisco-based Nick Strada thought when he realised he left his Nokia E71 in the back of a cab: he'd activated Google's Latitude location service a few days earlier, so surely he could track down the culprit?
When he logged into Latitude online, he was surprised to see his phone floating around a good 3,000 miles away – in central Boston. When phoning and texting his own number failed, Strada realised the phone's keypad had probably locked, and eventually the phone's battery died, taking its location with it. Surely there's some interesting potential here to help retrieve, or at least protect, a stolen handset?
Thousands of application developers have begun to flex their creative muscles, and some have already started to address the problem.
Apple's App Store offers Password Trap, which tries to identify a thief's location while luring them with false personal data; the optimistic Owner Information, which is supposed to makes it easy for whoever finds you phone to return it to you; and GPS Thief Tracker, which, if the thief happens to open it, will send a discreet email with the phone's location.
On Google's Android platform, meanwhile, there's plenty of inspiration for a stolen phone tracker that could be "plugged in" to Latitude.
Textecution is designed to stop drivers texting, and so disables the phone if it moves faster than 10mph. Could a new app disable the whole phone if it is taken more than five miles from your home location? Or maybe Latitude's regular security alert messages could be reconfigured remotely so that your thief is bombarded by infuriating alerts every 15 seconds? Or how about a ­simple remote lock, that makes the phone unusable?
The more severe the repercussion, the more you'd have to trust the application. Strada's fantasy about a remote mobile detonator may be taking things a bit far, but this is a fascinating creative challenge and, for the developer that cracks it, could be a lucrative business.
And however you find out where your phone is, you will still end up with a more practical problem: how do you confront the thief? We don't know how seriously the police would take GPS "evidence", so you may just have to ­borrow some muscle.
Original here