The U.S's biggest automaker is expected to promote cars not dependent on petroleum in an upcoming TV spot.
GM takes 'drastic measures'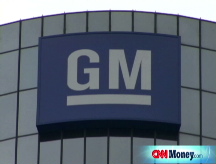 NEW YORK (CNNMoney.com) -- As part of a green marketing bid, automotive giant General Motors plans to unveil a lighthearted television ad that begins "Dear Oil," and proceeds to suggest a cooling off of its "relationship" with petroleum products.
GM marketing executive Kathryn Benoit spoke about the ad in a panel discussion at the American Advertising Federation conference Monday, said Kelly Cusinato, GM (GM, Fortune 500) spokeswoman.
While discussing green marketing, Benoit cited the company's plans for the new spot, which is aimed at promoting alternative fuel, said Cusinato.
In the ad, the "Dear Oil" letter continues: "We've had this great relationship for many years. We think we will both be a lot happier and healthier if we see less of each other."
The ad spot is still in the planning phase, but the target date for release is June 22nd during NBC's Meet the Press, according to Cusinato. The ad will also appear on the Discovery Channel's new environmental TV channel, Planet Green.
"The message in this creative spot is that we need to move beyond fuel and look to other options," said Cusinato.
The ad is an attempt to communicate the corporation's commitment to move beyond petroleum products, Cusinato said. The spot is still being developed and could change between now and the targeted release date, she said.
GM's plans for the ad was first described on AdAge.com Tuesday.
GM's ad plan comes as gas prices hit record levels, pinching consumers at the pump. The national average price for a gallon of regular unleaded gasoline rose to $4.043, up 2 cents from the previous day's mark of $4.023, AAA's Web site showed on Tuesday. Crude oil prices, on the other hand, slipped Tuesday.
Original here